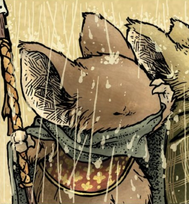 Cedric was a male mouse and a member of the Guard. His weapon of choice was a spear.
During the spring of 1153, Annika and Cedric were sent by the Guard's matriarch, Gwendolyn, to monitor the movement and breeding of wolves in the Territories.[1]
Cedric often chooses to wear his cloak wrapped around his face like a scarf; possibly to protect himself from the weather or to act as camouflage.