David Petersen
is the author, illustrator and creator of the
Mouse Guard series
.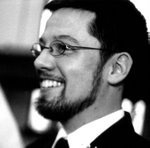 Biography
Edit
David Petersen was born in 1977. His artistic career soon followed. A steady diet of cartoons, comics, and tree climbing fed his imagination and is what still inspires his work today. David was the 2007 Russ Manning Award recipient for Most Promising Newcomer, and in 2008, won Eisner Awards for Best Publication for kids (Mouse Guard Fall 1152 & Winter 1152) and Best Graphic Album - Reprint (Mouse Guard Fall 1152 Hardcover).
He received his BFA in Printmaking from Eastern Michigan University where he met his wife Julia. They continue to reside in Michigan with their dog Autumn.
Ad blocker interference detected!
Wikia is a free-to-use site that makes money from advertising. We have a modified experience for viewers using ad blockers

Wikia is not accessible if you've made further modifications. Remove the custom ad blocker rule(s) and the page will load as expected.